Опубликовано
3 окт. 2007 г.
Valentino gets ovation for last ready-to-wear show
Опубликовано
3 окт. 2007 г.
PARIS, Oct 3, 2007 (AFP) - Italian designer Valentino received a standing ovation from a packed room for his last ever ready-to-wear show in Paris on Wednesday, October 3rd, having announced his retirement after 45 years in the business.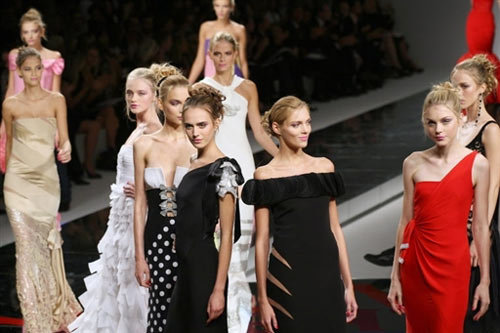 Creations of Valentino fall-winter 2008 collection - Photo : François Guillot/AFP
Tanned and spry as ever, he came out to join his models, clapping as they waited for him at the end of the catwalk.
Backstage, he insisted the time was right to go: "I'm a little emotional but I'm strong. I am leaving the room but the room is still full.
"You have to stop one day. I want to enjoy myself, do other things. I've always been shut up in my fashion house, drawing hundreds and hundreds of sketches every season. I want to stop while I am at the top."
On the runway it was business as usual, full of the smart day wear and red-carpet gowns catering to the every need from dawn to dusk of his celebrity customers.
One after the other he sent out slinky singled-shouldered cocktail frocks with ruched bodices, skirts suits with guipure inserts, halternecks in polka dot silk chiffon with floating ties, and 1950s tea dresses in a red and white print cinched into the waist with a wide scarlet patent leather belt.
His palette was fittingly summery with lots of powder pink and combinations of violet and primrose or turquoise.
As ever, the detailing was fine, like the tiny bows fastening the back of an evening sheath, or adorning a hem, or the ruffles fashioned into a mini bolero.
Maybe not at the cutting edge of fashion, Valentino will be missed by "Val's gals" who want to look feminine and beautiful and never feel foolish.
The final parting is yet to come: Valentino's last couture show will be in January, after which Alessandra Facchinetti takes up the reins.
Karl Lagerfeld, Chanel's artistic director, who showed his own label collection earlier Wednesday, told AFP he regretted Valentino's decision to stop now. "He's on top form, he should go on. He'll get bored."
"All my contracts are for life, it's like a death sentence" the designer, who has a reputation of being a workaholic, added.
Lagerfeld's own label collection for next spring-summer was hard-edged, focussing obsessively on triangles. Models had their fringes combed into a triangle over the forehead, when they weren't wearing double-hats, and dangled triangular earrings or spiky bracelets. A stand-up mandarin collar left a triangle shape at the neck, a sheer second-skin body stocking in stretch tulle was superimposed with an opaque triangle.
Prints are emerging this week as a big tendency for next summer and Christian Lacroix couldn't get enough of them in his collection.
Particularly striking were his 1920s "Bauhaus" speckled prints in lemon or pink with graphic black and white, which cropped up all over the place, for puffball and trapeze dresses and circle skirts with wide over-stitched belts and blouses with billowing sleeves ending at the elbow
Another rainbow print looked like free-hand brush strokes applied at random.
The pretty effect was somewhat marred by Lacroix' outlandish choice of giant discs covered in the same material as headgear.
Andrew Gn's collection for next summer was very dressy, bourgeois rather than boho-chic. It was ruffles with everything, for necklines that looked like garlands, girly puffed sleeves and the fronts of formal blouses with pussy cat bows, often in polka dots.
He printed black and white silk chiffon with butterfly and dragonfly motifs, which worked in patent leather were pinned to necklines like brooches or in organza and raffia became necklaces.

by Sarah Shard
Копирайт © 2023 AFP. Все права защищены. Любая информация даннного раздела защищена законом об интелектуальной собственности и не может быть скопирована, перепечатана, изменена, издана или использована в коммерческих целях.