Опубликовано
14 апр. 2009 г.
Stéphane Rolland strengthens its capital
Опубликовано
14 апр. 2009 г.
Since its beginnings the Stéphane Rolland Haute Couture has been financially supported by just two shareholders. In order to continue the development of the label this pair is now increasing the group's capital by €900,000.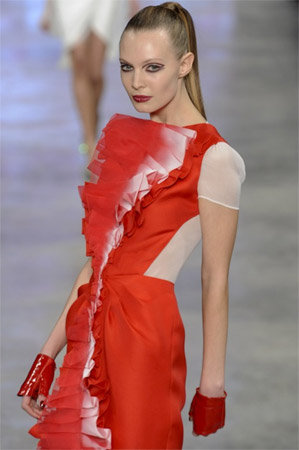 Stéphane Rolland Haute Couture Spring-Summer 2009 - Photo : PixelFormula
Therefore, the capital of the Stéphane Rolland Haute Couture will exceed €1.5 million. Established in 2007 the fashion house, still in its infancy, had a great 2008 with a turnover of almost €5million before tax for a net result of €62,500; following on from this success, in 2009 turnover rose to €6 million.
Based at 10 Avenue George V in the 8th arrondissement of Paris, the company currently employs thirty people. Former artistic director of
Jean-Louis Scherrer
, where he worked for ten years, the designer has managed to keep clients from his former role and transfer their business to the Avenue George V. This explains Stéphane Rolland's success as in fact his work is not available in any retail outlet.
The set-up seems to work; new clients have clearly voted in favour of the label. Alongside buyers from the USA and the Middle-East, the designer is doing business with companies from China, Turkey and South America.
Moreover, the label has a surprise in store for its next catwalk show which will be held in July 2009: the launch of its line of top of the range leather clothing. Currently in development, the line is projecting itself as luxurious. It will include precious gems and will be created in limited edition, a diversification prompted by this recent injection of funds.
By Jonathan Fulwell (Source: Céline Vautard)
Copyright © 2023 FashionNetwork.com All rights reserved.