Опубликовано
26 сент. 2007 г.
Prada decrees light and airy for next summer
Опубликовано
26 сент. 2007 г.
MILAN, Sept 26, 2007 (AFP) - After one of northern Europe's wettest summers on record, fashion designers showing in Milan this week are confidently predicting more seasonal sunshine next year for their airy, light-as-a-feather creations.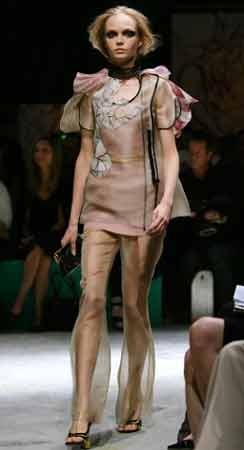 Prada's creation spring-summer 2008 during Milan Fashion Week, Tuesday September 25th, 2007
Certainly Miuccia
Prada
did not have downpours in mind when she sent out her models like a flock of fragile butterflies, all a-flutter in outfits fit for Tinkerbell.
Each body-hugging frock had a second sheer silk layer superimposed, giving an iridescent halo effect in pale pinks, watery greens or aubergine, printed with delicate Asian-inspired motifs.
Low, draped necklines lifted gently as the models moved down the runway, their legs encased in striped hose and platform shoes.
Voluminous skirts and dresses in green and white silk or gilt leather were a modern take on aristocratic costume before the French Revolution.
At Bottega Veneta, the silhouette was fluid in the house's hallmark dusty pastels, with dresses cinched into the waist and brushing the calf, discretely luxurious with hand-finished details.
German designer Thomas Maier delicately draped and pleated linen, silk and crepe in grey, pink and champagne for his sophisticated and refined vision for next summer.
The lingerie-led brand La Perla, as ever, remained undecided whether to show outerwear or underwear, and often opted for a mixture of the two, like a bra worn on top of a dress like a breastplate at the front, but plunging into the material at the back, or another bra half-exposed under a blouse with a single sleeve.
Cocks feathers and swansdown added lightness to the collection, in fringes on a bolero, forming a delicate collar or encircling the waist of a python print dress or as an anklet above snakeskin stilettoes.
At Blumarine the collection was short and very sexy, Saint Tropez chic. Anna Molinari teamed baby-doll dresses in girly turquoise, primrose and pale pink with bikers' leather jackets in bright colours.
Hot pants came in sand or even bright orange knit, with little lace-edged tops or waiters' waistcoats covered in mother-of-pearl, some just held together by a tiny clip between the breasts.
At Iceberg the mood was rock'n'roll, with lashings of black leather and rhinestones mixed with gold plastic for skimpy dresses and cropped jackets with wide sleeves.
Wednesday, the fifth day of Milan Fashion Week, continues with Roberto Cavalli's main label, Salvatore Ferragamo, and Giorgio Armani's second line, Emporio Armani.

By Katia Dolmadjian
Копирайт © 2023 AFP. Все права защищены. Любая информация даннного раздела защищена законом об интелектуальной собственности и не может быть скопирована, перепечатана, изменена, издана или использована в коммерческих целях.