Опубликовано
15 апр. 2009 г.
H&M same-store sales fall more than expected
Опубликовано
15 апр. 2009 г.
STOCKHOLM (Reuters) - Swedish fashion giant Hennes & Mauritz (HMb.ST) on Wednesday reported a bigger than expected 3 percent year-on-year fall in sales at established stories in March.
The mean forecast in a Reuters poll of 10 analysts had been for sales to fall 0.2 percent from a year earlier with predictions ranging from a fall of 3 percent and a rise of 2 percent.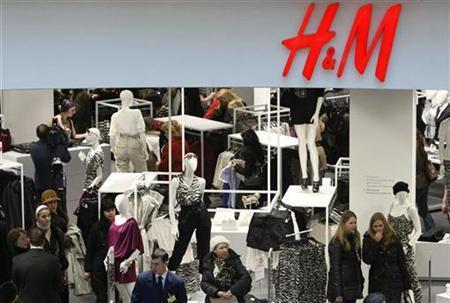 Analysts said the Easter holiday, which fell in March a year ago, made for a tough comparison this year, adding that an economic downturn made it less certain that sales would rebound in the coming months.
H&M only gives round numbers for sales and does not give currency figures. Total sales for the month were up 6 percent from a year ago versus a forecast of a 9.7 percent rise.
Anders Wiklund, an analyst at Evli Bank, said it would take more than a disappointing sales figure to weigh H&M's long-term case.
"I think people still see the H&M as the star in the gang," he said. "They have over a long period of time shown that their concept works. They are so financially strong and big that they can survive and do well."
H&M, the world's third-biggest clothing retailer by sales after Gap Inc (GPS.N) and Zara owner Inditex (ITX.MC), posted a surprise 13 percent fall in first-quarter pretax profit last month due to unfavorable currency swings.
But with a stronger Swedish crown, the exchange rate may work in H&M's favor in the second quarter while new store openings could also help.
"They opened a net 19 stores in March and that might help fuel sales growth in April," said Rolf Karp, an analyst at Ohman Fondkommission.
The fashion giant has stood by plans to open a net 225 stores this year.
However, retailers such as H&M and Inditex are feeling the pinch of a global downturn as shoppers curb spending although they have weathered the grim sales environment better than some other clothes retailers.
"Sales growth in general won't be too good," Karp said. "The currency impact will help to grow the sales figures, but it won't be due to good sales," he said.
© Thomson Reuters 2023 Все права защищены.