Опубликовано
21 янв. 2008 г.
Galliano's invitation to the ball
Опубликовано
21 янв. 2008 г.
PARIS, Jan 21, 2008 (AFP) - John Galliano's haute couture collection for Dior for next summer was a seductive invitation to the ball in the romantic setting of the Bois de Boulogne park in Paris.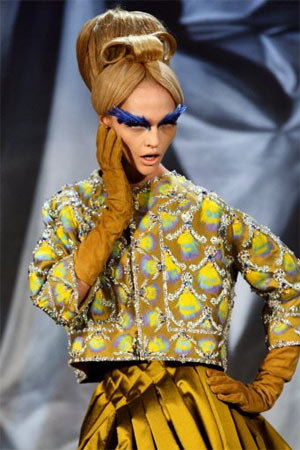 Christian Dior spring-summer 2008
Photo : François Guillot/AFP
In a giant marquee, his models frolicked in sumptuous gowns in rich, vibrant silks, embroidered with gold, or encrusted with crystals and jade.
Overcoats, with extra volume at the back in the style of the legendary Cristobel Balenciaga, were thrown over straight skirts or slinky body-hugging dresses. Other frocks were tight across the bosom but with voluminous skirts.
Slender waistlines were emphasised with peplums, while the backs of dresses were puffed out, and had outsize silk flowers weighing down the hems or nestling in the backs of layered necklines.
Gold arabesque embroidery and geometric motifs were reminiscent of the paintings of Gustav Klimt.
In the programme notes Galliano said he had been inspired by a portrait of Amelie Gautrea in a plunge-neckline dress by the 19th century American painter John Singer Sargent, which caused a scandal at the time.
Celebrities in the audience included the actress Diane Kruger and the model and dancer Dita Von Teese.
A world away from Galliano's extravaganza Portuguese designer Felipe Oliveira Baptista focussed his microscope on insects and butterflies for his collection.
"I like looking at nature - I really wanted to treat butterflies in a different way. Often it's very romanntic and floral. I wanted to show a more graphic, punchier side," he said.
Every item in the collection had appliques of a patchwork print of real-life photos of specimens which he bought.
The collection also mixed precious fabrics with rougher materials, like goat's fur or cotton with silk prints. "I think that gives a garment a modern edge," he told AFP.
Копирайт © 2023 AFP. Все права защищены. Любая информация даннного раздела защищена законом об интелектуальной собственности и не может быть скопирована, перепечатана, изменена, издана или использована в коммерческих целях.