Опубликовано
1 окт. 2007 г.
Galliano's dandy tribute to New York
Опубликовано
1 окт. 2007 г.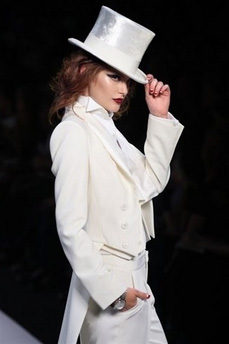 John Galliano for Christian Dior fall-winter 2008 during the fashion week in Paris
Photo : François Guillot/AFP
PARIS, Oct 1, 2007 (AFP) -
John Galliano
set the tone for his show for next summer on Monday October 1st with "An Englishman in New York," a big hit for Sting, who was guest of honour in the front row.
The collection celebrated English dandyism, as personified by the song's famously gay exile, Quentin Crisp, and indeed the showman Galliano himself.
He opened with a Savile Row sequence, a chalk-striped three-piece suit with jaunty trilby, a waiter's halterneck waistcoat over a big white shirt and tight black trousers, and pants in men's suiting held up by black braces over a skimpy white vest.
For evening he glammed up the sharply-tailored suits with silver thread.
Designs for dandies were interspersed with feminine, high gloss American chic, like his pearl grey slippery satin wrap-around frock dusted with silver, his monochrome leaf-printed silk tea dress and jade cheongsam. He even casually mixed the two, pairing a white frock coat over mini petticoat in coffee and cream lace.
Skirts in layered silk spattered with sequins swished out from the hips or were hobbled, over-the-knee.
His two favourite prints were leopardskin and zebra, used in everything from glamorous trench coat and fox-trimmed evening capes with matching clutch bags to satin kimonos, lace-edged baby dolls and slip dresses with crystal-beaded fringes.
Grand gala evening gowns in pistachio, ruby and mauve were unadorned unless by a giant silk flowers pinned to the shoulder
Galliano took his bow at the end in a white silk top and tails.
Vivenne Westwood, the eccentric grande dame of British fashion, came out on the catwalk after her show in one of her own raunchy creations, proving that you do not need to be young or a model size zero to look good in her clothes.
Marilyn Monroe's hourglass figure was one of the key inspirations for Westwood's collection, as ever liberally dosed with some sexually provocative "kinky" numbers, as she called them.
Dresses were almost sculptured, with strangled waists, pointed breasts like Gaultier's famous cones for Madonna, and fabric pinned up behind to exaggerate the posterior.
Pants were wide over the hips and tapered to the ankle, very 1950s, while narrow jackets had big lapels and stiff peplums and sleeves scrunched up to the elbow.
Models looked slovenly with their hair coming unpinned, wearing miniscule shorts and fringed pelmet skirts with knee-high socks.
True to her anti-establishment principles, Westwood also used her show to protest against proposed changes to anti-terror legislation in Britain which would allow suspects to be detained for 56 days without being brought before a magistrate.
She emblazoned her slogan "56 -- active resistance to propaganda" across giant silk scarves the size of flags which the models trailed behind them down the runway.
Turkish designer Ece Ege of the Dice Kayek label dedicated her collection to the Sufi poet Rumi, the origin of the whirling dervishes. But the part of her vision for next summer most likely to give rise to vertigo were the perilous 13-centimetre (5.1-inch) heels of the models' clunky two-tone patent leather shoes.
Her favourite silhouette was a puffball mini-dress, gently billowing out over the hips into a gathered hem, quite suitable for twirling.
Necklines were sometimes artfully pleated or draped into mini-capes while almost all the sleeves were puffed, which is not flattering beyond a certain age.
For a sleeker, more androgynous look she showed a pared down chalk white leather catsuit and bolero jacket and jeans in matt black python.

by Sarah Shard
Копирайт © 2023 AFP. Все права защищены. Любая информация даннного раздела защищена законом об интелектуальной собственности и не может быть скопирована, перепечатана, изменена, издана или использована в коммерческих целях.