Опубликовано
17 сент. 2007 г.
Designers trumpet warmth at London Fashion Week
Опубликовано
17 сент. 2007 г.
LONDON, Sept 17, 2007 (AFP) - Designers trumpeted warmth Monday, September 17th at a London Fashion Week preview with models draped in silk and muslin taking to the catwalk splashed in bronze, brass, chocolate and caramel.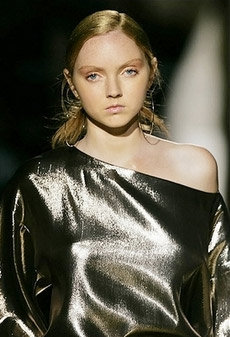 Model Lily Cole exhibits a creation by designer Jasper Conran at London Fashion Week in central London - photo : Leon Neal/AFP
Models showed off a variety of short skirts, shorts and dresses from the 2008 spring-summer collections of
Jasper Conran
and
Marios Schwab
, Best New Designer at the British Fashion Awards.
John Rocha's show was a clash of black, mustard, and rose, while Basso&Brooke took a high-tech approach to land their "paint" creations.
The talk of the event was the return of British sensation Luella Bartley -- known simply by her first name -- who presented her first collection in London after a six-year absence.
The young designer, popular among celebrities including supermodel Kate Moss, moulded punk with classical British garb.
Her choice of London, which meant she bypassed New York, coincided with the opening of her first fashion boutique in the British capital.
London Fashion Week, which kicked off on Saturday and runs till Thursday, September 18th, includes about 50 shows in its official programme.
Копирайт © 2023 AFP. Все права защищены. Любая информация даннного раздела защищена законом об интелектуальной собственности и не может быть скопирована, перепечатана, изменена, издана или использована в коммерческих целях.