Опубликовано
9 апр. 2009 г.
De Beers ends activity in Democratic Republic of Congo
Опубликовано
9 апр. 2009 г.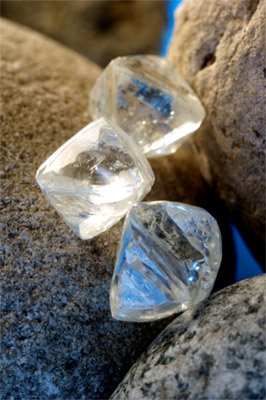 Uncut diamonds - Photo : De Beers
Prospecting underground in the Democratic Republic of Congo since 2005,
De Beers
is leaving the country. After four years the world leader in uncut diamonds, 45% owned by
Anglo American
, has judged its results as inconclusive; all the more important in the current economic climate. Only a skeleton crew will stay on-site.
"For De Beers, the DRC is still rich in possibilities for prospecting, but we cannot ignore the global economic crisis," declared Marie-Chantal Kaninda, administrative head of the company in the DRC. She added, "When economic conditions improve De Beers will examine new opportunities for mining and prospecting in the country."
Meanwhile, the South African group has already closed its headquarters in the village of Bena Luabeya, thirty kilometres from Mbuji Mayi, capital city of the province of East Kasai. The result: more than three hundred people have lost their jobs.
After having surveyed the Congolese earth in the region, notably through using an intermediary in the form of mining company Bakwanga (MIBA) and an agreement with Bugeco, De Beers is leaving key research infrastructure in the village. Also, offices equipped with air conditioning, running water, kitchen, shop, electricity generator, sanitation systems, water reservoirs and solar powered water heaters have been passed on to the local population by way of the provincial authorities, with an official ceremony held on Saturday 28 March.
By Jonathan Fulwell (Source: Emilie Kremer)
Copyright © 2023 FashionNetwork.com All rights reserved.