Опубликовано
7 дек. 2007 г.
Chanel puts on London show to pay homage to artisans
Опубликовано
7 дек. 2007 г.
LONDON, Dec 7, 2007 (AFP) - Fashion house Chanel on Thursday, December 7th, paid homage to artisans and craftspeople who make feathers, pearls and silk flower accessories by staging a fashion show in London.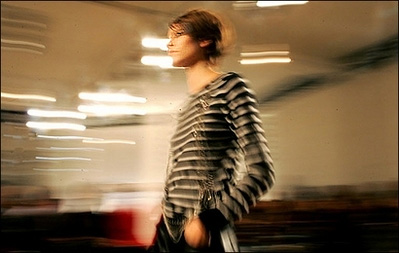 Homage of Chanel to artisans and craftspeople - Photo : Carl De Souza/AFP
Since 2002, in addition to the regular set of fashion shows, Chanel designer
Karl Lagerfeld
has held an annual show to put on display creations made by artisans and craftspeople, whose businesses have been acquired by Chanel to ensure their survival and to pass along their techniques and knowledge.
In an old post-sorting centre that is being converted to an auction house, some 450 people, including several celebrities, took in a wide variety of dresses, materials and colours.
All of the combinations included twirling feathers, embroideries of pearls, as well as a great deal of silk and ribbons.
As if to hammer home the fact that the show was in London, some models carried handbags emblazoned with the British flag, with bowler hats also seen scattered around.
The clothes exhibited on Thursday will be available for men and women from May.
Following similar shows in Tokyo in 2004, New York in 2005 and Monte Carlo in 2006, the British capital was chosen for its link to the men who influenced Coco Chanel's life.
Among them were Arthur Capel, often referred to as "Boy Capel", who gave her the funds to open her first store, and the Duke of Westminster, the richest man in England, with whom she had a relationship in 1925.
Копирайт © 2023 AFP. Все права защищены. Любая информация даннного раздела защищена законом об интелектуальной собственности и не может быть скопирована, перепечатана, изменена, издана или использована в коммерческих целях.