Опубликовано
30 сент. 2007 г.
Unfussy feminity in store for Cacharel
Опубликовано
30 сент. 2007 г.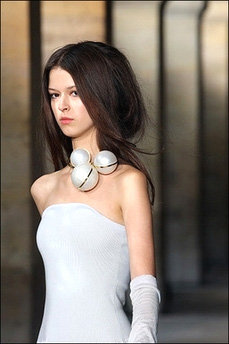 A model presents a creation by Spanish designer Estrella Archs during the Spring/Summer 2008 ready-to-wear collection show in Paris - Photo : Pierre Verdy/AFP
PARIS, Sept 30, 2007 (AFP) - Spanish designer
Estrella Archs
, who has recently been named creative director at
Cacharel
, sent out a flurry of pretty but unfussy frocks onto the runway for her own label collection here on Sunday, September 30th, boding well for her new job.
The core of the collection were dresses, almost all hovering round the knee, in floaty silk chiffons, in a palette of slate grey and black with the ocasional brilliant flash of emerald or pale quartz pink.
A ruffled neckline here, or just a wisp of fabric resting on the shoulders, a single-shouldered dress with knife-pleats down one side, or a latticework of spaghetti straps over a bare back holding everything up: each design had its own subtle twist.
The mood was restrained. An otherwise unadorned black taffeta shift looked as if it had been smudged with gold paint. The only jewellery were trios of fake pearls the size of table tennis balls on gold necklets.
More informal were her versions of the sarouel, body-hugging jersey dresses with leggings, cut down at the back to just a wide band between the knee and calf, giving a glimpse of bare thigh.
The designer literally ran round the runway in one of them to take her bow at the end.
Guest of honour at the show was Christian Lacroix, with grizzled beard, wearing black zipped up nylon cargo pants and a rumpled coat, clearly not dressed to the heights of elegance customary on his catwalk.
Копирайт © 2023 AFP. Все права защищены. Любая информация даннного раздела защищена законом об интелектуальной собственности и не может быть скопирована, перепечатана, изменена, издана или использована в коммерческих целях.