Опубликовано
4 сент. 2007 г.
Tokyo Collection : Glamorous, exotic and ready to wear
Опубликовано
4 сент. 2007 г.
TOKYO, Sept 4, 2007 (AFP) - Gaudy, glamorous and a little bit spooky. Gut's Dynamite Cabarets was one of the hot stocks of the 2008 spring-summer Tokyo Collection.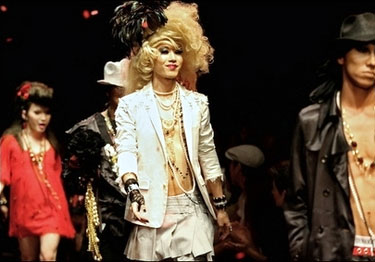 Collection by Cabaret Aki and Jackal Kuzu for spring-summer 2008 during the Japan Fashion Week, in Tokyo - Photo : Ken Shimizu/AFP
But unlike the tall, skinny and streamlined shapes typically seen on the catwalk, the clothes of Gut's Dynamite Cabarets were displayed by sexy and often lofty men, some posing as drag queens.
"All the clothes at my house are for occasions like crucial dates, the moment at which you have to be very sexy," said creative director Cabaret Aki.
"When you think of the underwear we design, you can tell. They are for those important moments," said Aki, who started the fashion house as a male underwear brand.
Japan has been trying to catch up with the world's other major fashion hubs like Paris, New York and Milan, throwing the Japan Fashion Week in Tokyo since 2005, with a major boost from the industry ministry.
The Tokyo Collection is the core of the week-long event, a head start for the world's 2008 spring-summer collections, with designers from veterans to new faces giving off the scent of exoticism in their shows at the event, which closes Wednesday, september 5th.
Among the few ladies items at Gut's Dynamite Cabarets were its camisole dresses, which were feminine but assertive with thin shoulder straps and layers of frills down to just below the torso.
Gut's Dynamite Cabarets is all about flamboyance, decorated with countless red and black roses, cluttering gold chains and any kinky material you can think of like leather, feathers and fur.
The bling-bling strangely matched the catwalk tune of Frank Sinatra's "My Way," as if everyone on stage was celebrating life itself.
Despite the cross-dressing show, Aki said he and his co-designer Jackal Kuzu created clothes that were ready to wear on the street.
"Many styles you see in the Tokyo Collection are luxurious but casual, which are very sophisticated," he said after the show. "We tried to keep a kinky touch to our clothes, which are still wearable in real life."
"Also, since this is the spring-summer collection, we added some scary feelings, like a ghost," he added.
Fashion house matohu has stood out for its Japanese touch among the 38 brands participating here.
While the Japanese look is often considered "kawaii" ("cute"), designer duo Hiroyuki Horihata and Makiko Sekiguchi took the theme of the Keicho era (1596-1615), a mere two decades in Japanese history that featured some outstanding style.
The style -- humble like Japanese rituals but brilliant like the hue of green tea -- swept the country's trend-conscious echelons of power at the time.
"We want to offer clothes that have something more than just looking cute or pretty in silhouette," Horihata said. "We want to add something more than simply the fashion."
In the latest collection, "something more" for matohu is the foamy but rugged "Shino" style of earthenware that was in vogue back then.
"To give the touch of cracking which you see on the surface of the pottery, we printed the design on silk," said Sekiguchi.
"It's such a gentle and airy touch with some distorted feeling," Horihata said. "Knowing what Shino is or not makes such a difference to those who put on our clothes."
Horihata said he and Sekiguchi spend twice as much time to prepare for a single collection, seeking the best material to satisfy both the creators' artistic drive and consumers' practicality.
"Unless you can actually wear them, it would be useless," Horihata said. "We also think about what our clothes will be like after being washed at home."
Norio Surikabe, the designer of Support Surface, whose pristine style and natural material of cotton and linen create an extremely streamlined silhouette, was more definitive.
"I think about how the people wearing them feel, so we use dry-touch linen for this season of high humidity," he said. "I do not compromise. People may say my style is plain, but for me those who wear my clothes are the priority."

By Harumi Ozawa
Копирайт © 2023 AFP. Все права защищены. Любая информация даннного раздела защищена законом об интелектуальной собственности и не может быть скопирована, перепечатана, изменена, издана или использована в коммерческих целях.