Опубликовано
2 сент. 2007 г.
African renaissance arrives on the catwalks
Опубликовано
2 сент. 2007 г.
JOHANNESBURG, Sept 2, 2007 (AFP) - Designers are using South Africa's premier fashion event to showcase the ethnic diversity and traditional culture of the Rainbow Nation as well as demonstrate a growing national pride.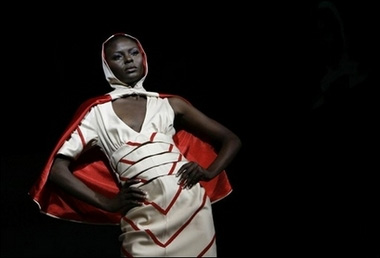 A model shows one of the creations of South African designer Thabani Mavundla during the Cape town fashion week in Cape Town
Photo : Gianluigi Guercia/AFP
Ostracised during the apartheid years, South Africa is now attracting growing interest from the international fashion industry as designers try to reflect the "African Renaissance" trumpeted by the country's President Thabo Mbeki in their catalogues and catwalks.
But if the creations are attracting more overseas interest, it appears most black South Africans have yet to be seduced.
"Traditional style was not common until the new South Africa," explains Mantombi Ngcoya, a designer for the MED (Mantombi ethnic design) label, while presenting her designs on the margins of the 11th "South African Fashion Week" which is currently being staged in Johannesburg.
"This renaissance style is when we became proud of being South African."
If apartheid was based on the principle that ethnic groups were to be kept separated, the fashion world has delighted in embracing ethnic fusion.
For Maud Mbowane, a designer for Johannesburg-based Izimm Clothing, South African fashion since apartheid ended in 1994 has been defined by a willingness to push boundaries and explore diversity.
"South African design can be defined by individualism," she told AFP on the sidelines of the show.
"We have just been given freedom of expression, so everyone expresses his freedom ... We are not afraid of colours, of different proportions."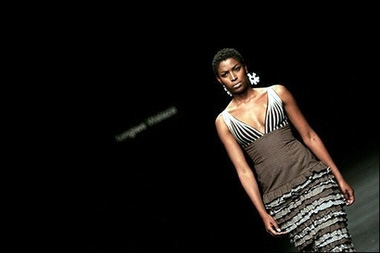 A South African models presents a creation of Bongiwe Walaza' collection during the 11th Sanlam SA Fashion Week in Johannesburg
Photo : Alexander Joe/AFP
As an example, she points to a long orange skirt with black trims which was inspired by the traditions of the Xhosa tribe.
"The lines have a significance but it's still comfortable," she says.
Ngcoya likes to mix and match her materials.
"As a young designer, I am inspired by different cultures and I mix traditional materials, like shwe-shwe, beads, cow skins, with western ones," she said.
As part of the drive to highlight traditional fabrics and patterns, the South African ministry of arts and culture has been operating an exchange programme over the last four years between leading fashion houses and designers from different provinces across the country.
Among the creations born of this collaboration and on display at the fashion show are a classical white skirt worn over a colourful patchwork underskirt typical of North West province, and a small black dress which is trimmed with embroidery traditional to the northern Limpopo province.
Vusi Ngobeni, who oversees the ministry's Fashion Fusion Project, said the aim was to "uplift" the designers and give them the confidence to project their creations to a wider audience.
"We try to push South African pride. It's our local craft, something they learn at home, not in schools," said Ngobeni.
"We target international markets (but) we also want to install that culture of fashion in South Africa."
However Mbowane said whipping up interest in fashion was "a real challenge", not helped by an influx of cheap clothing imports from Asia, particularly China.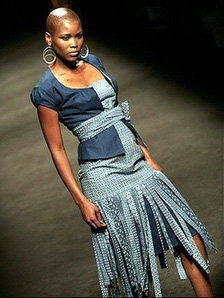 A South African models presents a creation of Bongiwe Walaza' collection - Photo : Alexander Joe/AFP
While a black middle class -- known as the Black Diamonds -- is slowly emerging in South Africa, its spending power is still heavily concentrated on household electronics and motor cars rather than high fashion.
What's more, according to Mbowane, the idea still persists that "when it comes to being formal, the 'must' is still the simple black dress or costume".
"We rather wear what we find confortable with. We tend to be afraid of looking too African," she added.
Ngcoya is also struck by the irony that while her creations may be quintessentially African, her customers are usually white.
"Blacks don't want to pay us as designers. We still are in a process of learning that fashion is a part of us."

by Charlotte Plantive
Копирайт © 2023 AFP. Все права защищены. Любая информация даннного раздела защищена законом об интелектуальной собственности и не может быть скопирована, перепечатана, изменена, издана или использована в коммерческих целях.